In case you're doubtful about the IB or IGCSE curricula & which one to choose amongst them? We are here to help & make the process easier. We understand that this can be a difficult educational decision, but don't worry, we're here to assist via our blog on IB VS IGCSE!
Further in the blog, we've compared the two curriculums in detail & laid the basis for you to decide which one is right for you. We've also covered the benefits of both the programmes and discussed every important information about the IB-MYP & IGCSE. By the end of this blog post, you shall have a good idea of which programme better suits your academic objectives, goals, & why.
Ignite Training Institute offers comprehensive tutoring support for international curriculums like IGCSE & International Baccalaureate. Learn more.
What Is The IB Curriculum?
The International Baccalaureate (IB) is an internationally recognized programme that is offered at schools in 153 countries. The IB-MYP programme is especially known for its rigorous academics and its focus on developing a global-mindedness in the students.
The IB curriculum includes subject components like language and literature, language acquisition, individuals and communities, sciences, mathematics, and the arts. Each subject category has to be individually represented as a part of the IB process. This encourages students to think critically and creatively.
Furthermore, students are also inspired to apply what they learn in the classroom to real-world situations, giving them a leg up on future academic and professional endeavors. In this case, the IB programme is an excellent choice for students who are looking for a challenging and well-rounded academic experience. The IB curriculum is recognized by top universities around the world, and it can open doors to several different types of post-secondary opportunities.
What Is The IGCSE Curriculum?
The IGCSE curriculum is offered by internationally recognized exam boards like Cambridge, Edexcel, and AQA. The curriculum focuses on developing students' skills in critical thinking, problem-solving, and independent learning approach. Candidates learn how to manage their time and resources effectively, as well as how to work collaboratively.
The IGCSE curriculum also places a strong emphasis on developing students' communication skills, both written and oral. This is achieved through a variety of tasks and assessments, such as presentations, group work, and written examinations. On top of that, both school-going scholars & homeschoolers can enroll in the IGCSE curriculum.
To conclude, the IGCSE curriculum provides students with a focused educational opportunity that prepares them for further study and future success in their chosen field. It is considered ideal for students willing to study in the UK or abroad for higher education.
IB Curriculum VS IGCSE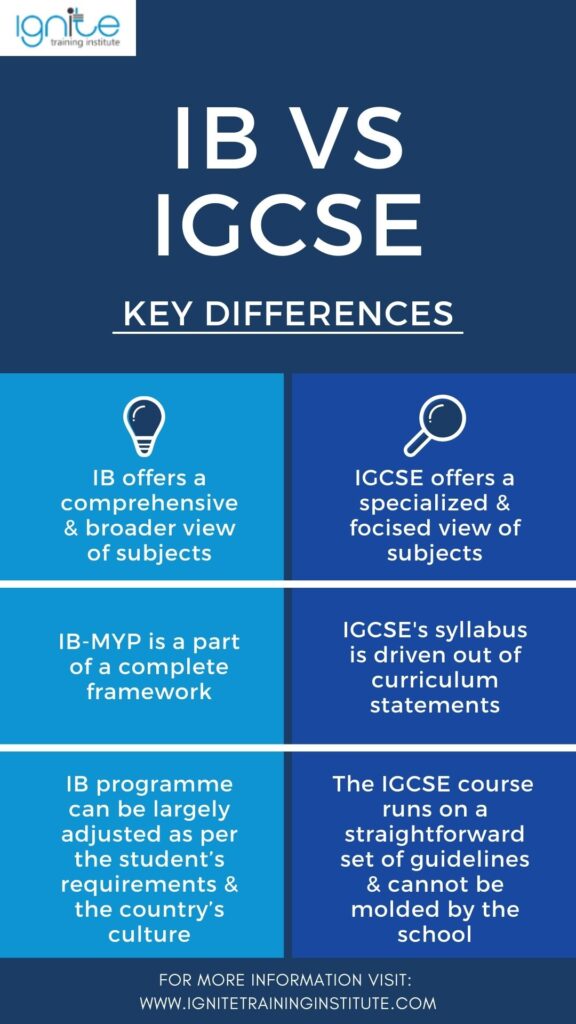 The IGCSE curriculum is generally compared to the International Baccalaureate's MYP programme. Therefore, here are the key point differences to support the comparison of IB VS IGCSE.
The IB curriculum is more comprehensive, covering a broad range of subjects in greater depth. This means that it provides a well-rounded education and prepares students for university-level study.
The IGCSE curriculum, on the other hand, is more focused and specialized. It covers fewer subjects in greater detail, which can be beneficial for students who know what they want to study at a university level.
Since 1968, IB has been offering outstanding educational opportunities to its candidates in 153 countries. The MYP course is primarily for 11 to 16-year-olds. Certificates go to those who qualify for the curriculum's coursework. On the other hand, Cambridge International Examinations & other boards administer IGCSE (CIE). Its credentials are valid in more than 160 countries.
The IGCSE curriculum runs on a straightforward set of guidelines & cannot be molded by the administrative school. However, the IB programme can be largely adjusted as per the student's requirements & the country's culture.
Both IB & IGCSE are globally demanding curriculums based on a yearly grading system. While IB offers learning in six different subject groups in a much more flexible manner. IGCSE offers a choice amongst 70 different subjects (including 30 languages).
Ignite Training Institute can provide you with the expert tuition you need to succeed.
Which Curriculum Is Right for You – IB-MYP Or IGCSE?
It's often difficult for students to decide upon the right curriculum for them. However, we are here to give you some guidelines that you must think about while making your decision.
The IB curriculum is more focused on building a global approach and preparing students for university. It covers a wider range of subjects than the IGCSE, including arts and humanities.
The IGCSE is more focused on academic achievement and preparing students for exams. It covers a narrower range of subjects but goes into greater depth than the IB.
Both curriculums are challenging and will prepare you for further study. However, the IB might be a better fit if you're interested in a liberal arts education, while the IGCSE might be a better fit if you're looking to specialize in a particular subject area.
Ignite Training Institute – #1 Tutors For IB & IGCSE
Ignite Training Institute offers full-scale academic support for international curriculums like IB & IGCSE. Our team of expert trainers utilizes their years & years of experience into helping students not only excel academically but retain information for life. Students can choose from the curriculum-specific customized courses prepared from scratch keeping into consideration the student's academic needs.
The institute offers a chance to learn from certified professionals, particularly for IB & IGCSE. Candidates enrolled in the courses not only go through a comprehensive training process but are also provided 1000+ resources for practice. They are further taught effective strategies for time management via conducting in-house tests in exam-like conditions.
Get in touch with our expert consultants today!
FAQs
1. What Is The Difference Between IB & IGCSE?
The International Baccalaureate (IB) is a global organization that offers a rigorous educational program for students aged 3-19. The IB curriculum is divided into six subject groups, and students must complete courses in each group in order to earn their diplomas.
The International General Certificate of Secondary Education (IGCSE) is a two-year program that leads to an internationally recognized qualification. The IGCSE curriculum is made up of core and optional subjects, and students can choose which courses they want to take.
2. Which Curriculum Is Better – IB Or IGCSE?
There is no simple answer to this question. Both curriculums have their own pros & cons, and which one is right for you will depend on your individual needs and goals. However, we believe that the IB curriculum offers a more well-rounded education, as it covers a wider range of subject matter than the IGCSE.
3. Which Courses Do Ignite Offer To Its Students?
Ignite Training Institute offers both the IB and IGCSE courses as per the student's requirements. Since every candidate is unique, presenting an extraordinary opportunity to choose the curriculum that best suits their needs makes sense. Contact us today to find out more!
Conclusion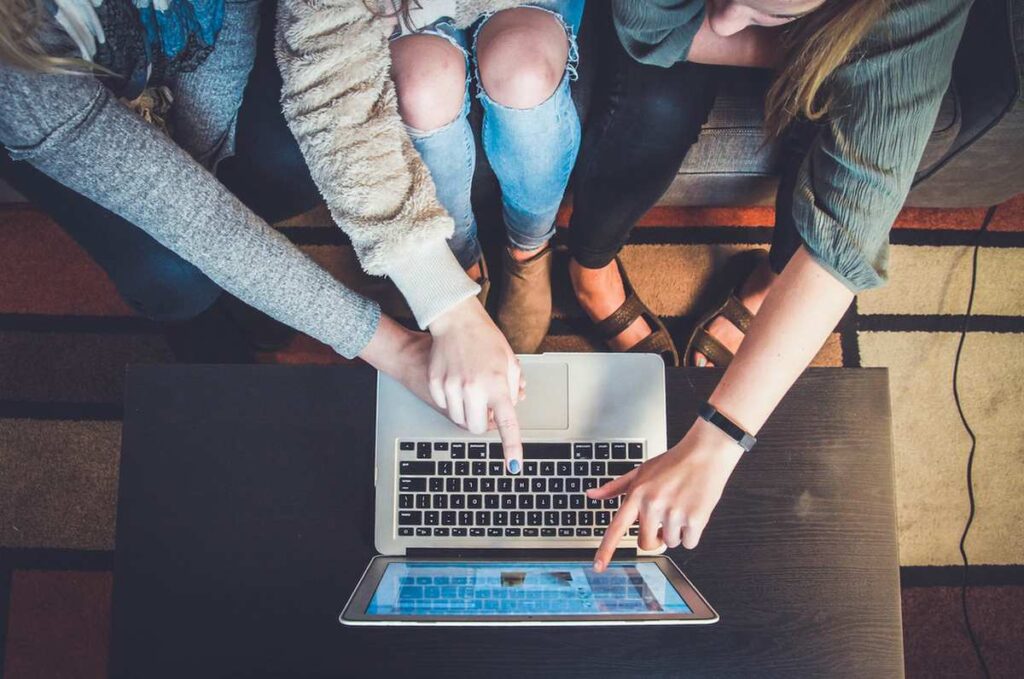 Now that we've looked at the differences between the IB and IGCSE curricula, it's time to reach a conclusion. Both programs have their pros and cons, but ultimately, it's up to you to decide which one is right for your academic goals.
IB is a difficult yet well-rounded programme for ideal candidates. If you desire a more academic-focused programme, the IGCSE might be the perfect choice for you. In any case, Ignite Training Institute has the best IB & IGCSE tutors to support your dreams & aspirations.