How can students improve their chances of getting into a top university? A higher road toward top advanced placement scores will lead them to this academic pursuit. Such students aiming to secure their seats & earn college credits get exposure to a wide range of opportunities. And in this case, taking Advanced Placements (AP) classes & scoring well will help them showcase their interest in several subject matters at the college level in sync with the school schedule.
There are several benefits of taking AP classes. For students, world-class external support in addition to their school is what is needed at the moment. Ignite Training Institute is the #1 AP tutor in UAE ensuring in-depth education & high success rates. As you gear yourself to prepare for college, here's your chance to do it the right way.
Read ahead to know everything about Advanced Placements & how you can do well in higher education.
What Is An Advanced Placement (AP) Course?
Advanced Placement (AP) Courses are college-level entrance courses for students to make their college applications stand out from the others. It was created & is administered by the CollegeBoard, a United Nations non-profit organization. The objective of its standardization is direct connectivity & improved chances of getting into college & universities from high school. It is the means to prepare students for college-level effort, understanding, & productivity.
The AP program coursework offers learnings in 38 different subjects & is a highly regarded way of manifesting proficiency of your aptitude. These courses are run in sync with your school schedule & the exams are followed in line with your regular school examinations. This academic experience is necessary for developing necessary skills such as critical thinking & reasoning.
Most universities in the UK, Canada, Europe, & worldwide in almost 120 countries accept AP scores for admission & placement. Students who showcase extraordinary performance in the AP exams are honored with AP Scholars Award. In addition, by scoring 3 or above scores, they also achieve Advanced Placement International Diploma (APID).
Therefore, Advance Placement (AP) courses are specially designed for students to prepare them for a college-like-environment. It's important to keep in mind
Related: The Difficulty of AP Exams & Classes: What to Expect
The Different AP Subjects
The Advanced Placement (AP) offers 38 subjects in different interest areas like Science, Mathematics, Art, Humanities, Literature, & History. Amongst all subjects, here's the list of the following –
1. Languages & Culture
AP Italian Language & Culture
AP Japanese Language & Culture
AP Latin
AP Chinese Language and Culture
AP French Language & Culture
AP German Language & Culture
AP Spanish Language & Culture
AP Spanish Literature & Culture
2. English
AP English Language & Composition
AP English Literature & Composition
3. Art, Design, & Music
AP Art History
AP Music Theory
AP Art & Design (formerly known as Studio Art): 2-D Design
AP Art & Design (formerly known as Studio Art): 3-D Design
AP Art & Design (formerly known as Studio Art): Drawing
4. History & Social Sciences
AP Human Geography
AP Macroeconomics
AP Microeconomics
AP US History
AP World History: Modern
AP Psychology
AP European History
AP Government & Politics (Comparative)
AP Government & Politics (US)
5. Science
AP Biology
AP Chemistry
AP Environmental Science
AP Physics 1: Algebra-Based
AP Physics 2: Algebra-Based
AP Physics C: Electricity & Magnetism
AP Physics C: Mechanics
6. Mathematics
AP Calculus AB
AP Calculus BC
AP Statistics
7. Research & Seminar
8. Computer Science
AP Computer Science A
AP Computer Science Principles
Benefits Of Taking AP Classes For Students
The Advanced Placement (AP) course offers several benefits to students & the right qualifications for pursuing higher education. Excelling in these exams becomes seamless with the right external support from premier tutors like Ignite Training Institute. The best guidance & rigorous practice helps students accomplish their academic objectives. Amongst other advantages of taking AP classes, here are a few that we would want to throw some light upon –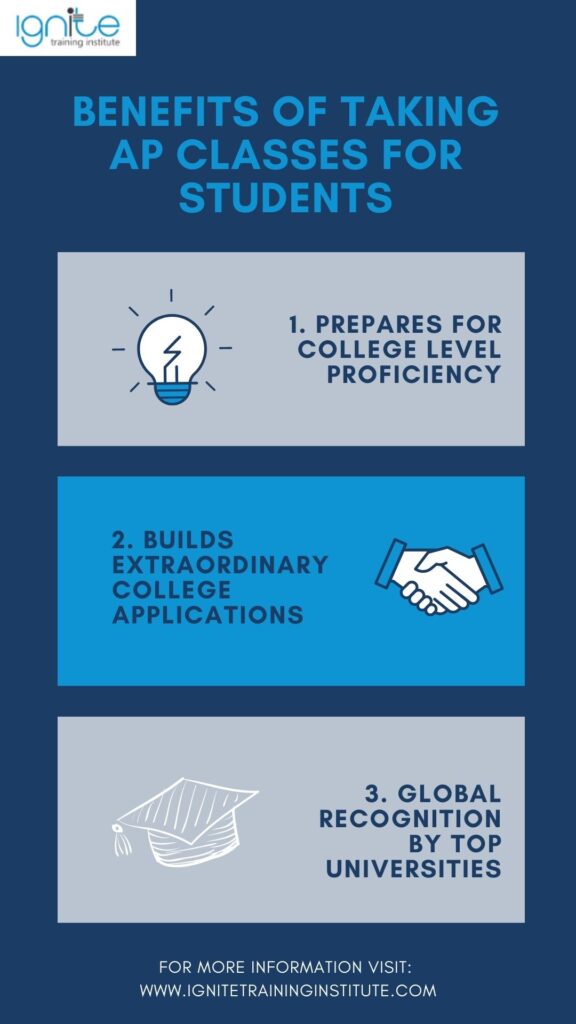 1. Prepares For College Level Proficiency
First things first, AP courses nurture students to develop college-level aptitude. Taking these classes helps develop confidence & other crucial skills like critical thinking, problem-solving, time management, & others to succeed through the challenging coursework.
2. Builds Extraordinary College Applications
What is better than giving Advance Placement tests to stand out in your college applications from others? This is a great opportunity for high school students to earn some college credits in alignment with their school schedule. A student's AP experience surely impacts their chances of securing admission.
3. Global Recognition By Top Universities
With respect to worldwide acceptance, AP is globally recognized among top schools & universities. It is a standardized system with a more than 60% or higher passing rate. This course helps students excel at the college level compared to those not opting for it.
AP VS IB: The Key Differences
Advanced Placement (AP) & International Baccalaureate (IB) are both comprehensive courses that demand continuous input from students. They have highly challenging coursework ensuring full preparation to develop competency for college. Yet, these globally recognized curriculums leave no scope for a lack of skills like high-level thinking & building a critical mindset. They make sure to nurture students in a different yet progressive manner.
There are several differences as well that sets IB & AP apart from each other. There are over 22,000 in the USA only offering AP and it is also recognized & accepted worldwide. Whereas, there are 5500 + World IB Schools in over 153 countries and 1821 alone in the USA. Therefore, AP Exams are more common in the USA than IB. As per the CollegeBoard, nearly 4.1 million AP exams were given in the USA.
Secondly, IB offers 36 classes with a generally broader subject view. Whereas, there are 38 subject-driven AP classes designed for students to opt for at an individual level. Moreover, pursuing International Baccalaureate is more expensive than Advance Placements. In conclusion, both IB & AP are rigorous courses however the approach is slightly different.
AP courses generally prepare students for college-level adequacy & help them earn college credits along the way. However, IB is more of a program that helps students learn & acquire knowledge to develop some necessary life skills. If a school either offers AP or IB, you may simply want to go ahead with what's accessible at the hand.
How Does Ignite Training Institute Help?
Your AP Score determines the number of college credits you'll receive to get into your dream university. No matter what AP subject you choose, most colleges offer credits & placement for scores of 4 or 5. And to bring about the best, Ignite Training Institute helps you at each step of the preparation. Our curriculum-specific teachers, study material, & regular testing help candidates understand & score well in the AP exams.
Ignite's most popular AP courses best suit the educational requirements of students. It is a direct means to enhance their college applications with some extra credits on their profiles. It is our ongoing mission to help students learn seamlessly & ace their AP exams with our 10 + years of tutoring experience!
Related: How To Find The Best Coaching Institute In Dubai?
FAQs
1. How Long Do AP Tests Take?
All Advances Placement tests usually take around two to three hours to complete. These tests are further divided into two sections and are separated by a break.
2. Who Can Give AP Exams?
Students in high school nearing the end of their Key Stage 5 (or in Year 13) appear for Advance Placement exams in sync with their school schedule & coursework. These examinations depict college-level proficiency in subjects to get into top universities.
3. What Are Advance Placement Scores?
Advanced Placements scoring system ranges from scores 1 to 5. It signifies a student's qualification to seek college credits & placements with the score. It is standardized worldwide and is internationally recognized for pursuing higher education.
| | |
| --- | --- |
| AP Score | Recommendation |
| 5 | Extremely Well Qualified |
| 4 | Very Well Qualified |
| 3 | Qualified |
| 2 | Possibly Qualified |
| 1 | No Recommendation |
Takeaway
Regardless of the AP classes you choose, a high score will take you one step closer to your academic goal. Getting started with AP may seem easier than it is. Nevertheless, the challenges of the coursework can be easily looked into with incredible external support. Ultimately, this will take you to the other side of high school depending on your efforts, knowledge, skills, & scores.
Connect with our top academic counselors for more information.